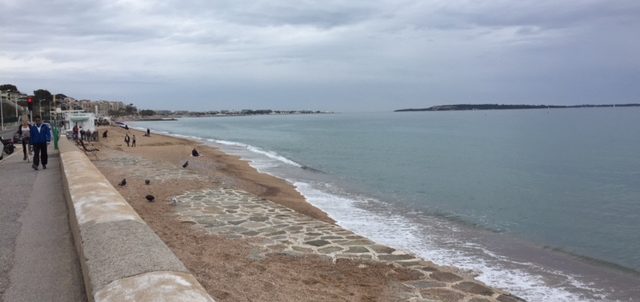 Here's the beach in Cannes, where I try to walk each morning. I don't make it down there every day (croissants are calling, people,) but when I do, the walking allows me to get out of my head.
There's something about working so intensely on a writing project, to the exclusion of all else, that breeds contemplation of the tools we put to use in service of our pages.
What follows are some of the things our writers are thinking about as they continue to draft  their screenplays here in Cannes. I hope you can use them as well, as they encourage not only specific clarity on overall themes, but micro scene writing as well.
These tips apply to all kinds of writing.
DON'T BE BORING: Self explanatory, right? How are you holding the reader's interest? What are some of the mysteries you've planted that keep him or her reading forward?
START WITH A BANG! Grab your reader's attention at the beginning of your book or screenplay. How can you present a question or a dilemma they want answered? How can you grab them by the throat either through physical or emotional stakes?
SHOW DON'T TELL Write this on an index card and tape it above your writing table. How can you reveal action through scenes, rather than synopsizing or explaining?
TELL THE STORY IN THE CUT Use ellipses, or gaps in the narrative to move the story forward. In fiction, memoir, and screenwriting, your transitions between scenes can move the narrative ahead in ways that engage the reader rather than spoon feeding them every expected beat.
FIX IT LATER Keep moving forward. Especially while writing a first draft. Even if you know there's something you're changing in the early pages, make a note of it, and write forward as if you'd already made the change. This is huge. Don't get bogged down in rewriting early on.
WHAT ARE WE HEARING? How are you using sound in your story? And if you haven't thought about this, do! Are there audio motifs that run through your book or screenplay? Can you give these sounds an arc that support your character's transformation?
WHAT ARE WE SEEING? Write visually. Whether in script or prose, your job is to enable your reader to see your characters, your setting, the world of your story. Ground us in what we see, so the narrative plays in our minds clearly.
WHAT DOES IT MEAN? What is your book or screenplay about? How is the action in your pages supporting this theme? If you don't know what your book or script is about yet, that's ok. You will. This is why it's important to…
LISTEN TO THE WHISPER The intuitive voice that speaks to you as you write. This whisper will let you know when you're going off track, and also when you're hitting gold. While hitting gold, fear will come up. This is the sign that you're going where you need to. The whisper can also reveal your theme, and create connections that you can only discover as you write.
RELENTLESSLY WEIRD This means so many things. But to me, it means being your weird specific self on the page. Accessing your unique point of view.
PARADOX I saved the best for last. Here is the definition of paradox– "A statement that is seemingly contradictory or opposed to common sense, and yet is perhaps true." Paradox can also refer to a person with contradictory qualities. So, how can you defy common sense in your pages, and somehow get to a surprising truth? And how can your characters be three dimensional, exhibiting contradictory qualities that give them complexity and depth? How is your hero not heroic? How is your antagonist a good person?
Take Action! Use these tips to deepen and strengthen your pages. Don't be boring. Start with a Bang. Show, don't tell. Reveal your story in the cut/transition. Fix it later. What are we seeing and hearing? What does it all mean? Are you listening to your intuition (the whisper?) Are you being relentlessly yourself as you write? Are you using Paradox to create surprising insights, themes and characters?
I hope these tips help you this week in your writing.
Until next week, Bonne Journee!
xo pv
Sign up here for my free weekly writing tips and inspiration!