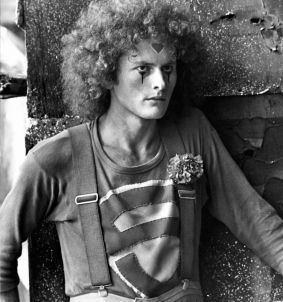 I blame sexy Jesus.
For a lot of things really, but mostly for causing me to become a writer. Even though I've been an obsessive reader since childhood, my route to the page came in a circuitous way. When I was about 13, I went to a theater performance of GODSPELL with my parents and had my mind blown. I wish I could say it had been an Ibsen play, or one written by Shakespeare that rocked my world, but no. It was hot Victor Garber, playing Jesus, dressed like a clown.
As I sat there in the balcony in my Gunne Sax dress, peering through coke bottle glasses down at the stage, I was thrilled in a way that I'd never been thrilled before. There was something so amazing to me about these people running around on stage and SINGING. And having fun. And someone wrote this? It didn't hurt that sexy hippie Jesus seemed to be singing RIGHT AT ME.
My geek gene was activated. In that instant, I became a "theater" person.
This moment of inspiration led me to become a drama major in college, and then on to UCLA for Film School. Throughout my studies, I was inspired by so many artists. At Berkeley, Bertolt Brecht became my God. And at UCLA I became obsessed with Francis Coppola, Michael Curtiz, and Hitchcock. I can still watch STRANGERS ON A TRAIN and go into a mesmeric trance.
I'm reminded of all this because summer, for me, has always been a time to get re-inspired. When I was a kid, I'd lie in the backyard and devour a book a day. Or drop the needle (yes, I listened to vinyl) and play the original cast album of A CHORUS LINE over and over until my mother threatened to have a nervous breakdown. It was a time when I could relax and just TAKE THINGS IN. I could be open, like a sponge, and this quiet place of receptivity would spark ideas and thoughts in a way that DOING couldn't.
Even if you're working hard on your book or screenplay, it's important to keep filling the well– to be excited and curious about the world and ideas. Being inspired can give you groundbreaking thoughts about your project, allow you to dig deeper into your characters and themes, and to feel creatively refreshed.
I'm determined this summer to carve out time to reconnect with some of the artists who inspire me… Thomas Hardy, Joyce Carol Oates, Sylvia Plath, Stephen King and Joan Didion. I also plan to watch some Nicole Holofcener, Jim Jarmusch, and Billy Wilder films.
Are you feeling burned out? Do you need a summer creative lift? Who inspires YOU?
Take Action!  Create some lazy blocks of free summer time. Think about the filmmakers and writers you love. Make a list. Re-watch their movies, re-read their books. It's strange and unfathomable how these connections are made between artists and readers/viewers, but they are magical. And you need to maintain them.
This summer, make time to feed your creative self.
Just looking at Victor Garber in those suspenders makes me smile. He's sexy, and he's Jesus.
Enough said.
Happy Inspiration!
xo Pat
Sign up here for my weekly writing tips and inspiration!
P.S.  For your summer viewing pleasure, here's a clip from the movie version of Godspell, starring Victor Garber.  So corny. And so awesome.