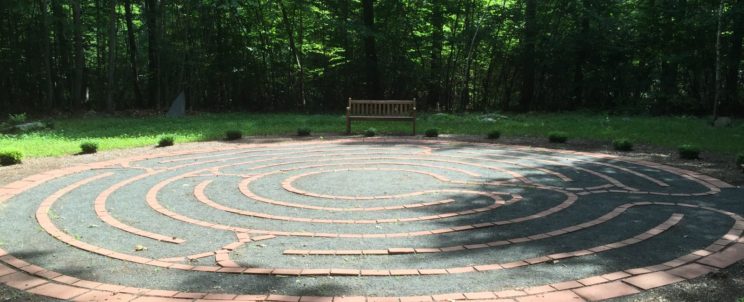 The other day I was sitting at my desk, writing, and feeling completely isolated with this monster document inside my computer. It felt like just me and IT, locked in some kind of terrible death battle. Some days IT speaks to me, but that day, IT was utterly silent, staring at me with unblinking accusatory eyes.
Because we writers work alone, we have no one to ask, "Hey, is IT staring at me because I'm going somewhere deep and scary and good, or because I'm dropping into a black hole of badness?"
For me, one of the most difficult parts of writing is being alone.
A couple of weeks ago, I had the privilege of mentoring terrific screenwriters at the Meryl Streep/IRIS Writing Lab for Women in NY. There were eight mentors and twelve writers, and one of the most powerful parts of the retreat was watching people who are used to living in sweatpants and never leaving the house, connect with other solitary souls in a rush of companionship and support.
Most of us arrived on a Wednesday, and after a brief orientation at the Writer's Guild East, we went upstairs to a cocktail party on the roof. Let's just say you haven't really lived until you experience a rooftop cocktail party overlooking midtown (my first!) Mentors mingled with writers, and we experienced a glorious NYC Sunset. Smiles were pasted on, and people were nervous. We were still separate, but trying to make connections.
The next morning we met at Penn Station, joined the crazy salmon spawning crush of humanity, and dragging suitcases, boarded our train to the retreat center in Connecticut.
When we arrived at the center, a charming jumble of buildings with high ceilinged rooms and a meeting room called The White Barn, we dumped our luggage in our rooms, and met under a beautiful tree. Nearby, a small pond sparkled, and down the road there was a walking labyrinth (see above.) The setting was beautiful, serene.
As we sat under this tree, the organizers talked about how the week would shake out, and suggested that we do an ice breaker. This was met with nervous giggles and horrifying flashbacks to summer camp. I looked around and recognized the terrified loner stare. Ice breaker? Oh hell no. I have to tell people something personal about myself? We all looked like we wanted to RUN.
Plus, we had to throw a tennis ball to each other (yeah, we writers are not known for our phys-ed prowess.)
But here's what happened. As we tossed the ball around the circle, and told everyone something interesting about ourselves, the smiles turned from nervous, to genuine. I immediately started to connect faces with names and felt more comfortable.
Throughout the week, as we chatted in our notes sessions and panels and presentations, and most especially at meals, a powerful bonding took hold. We went from solitary to community very quickly. Not just amongst the mentors, but the writers as well. There was a smoking area out back, where people swatted mosquitoes away and talked about Dolly Parton, and there was a clot by the breakfast bar one morning where we all fought to sit close to the insanely amazing blueberry pancakes.
THIS, I thought to myself, THIS is what writers need to deal with IT. Friends and companionship!
So…. I can't offer you blueberry pancakes, or a cigarette, or a breakdown on why Dolly Parton's Jolene is the best country song ever, but here's what I CAN give you…
Starting next Friday, October 21st at 11am PST, I'll be doing weekly Facebook Live sessions where I select a topic and get you talking and connecting with each other. Do you need help with resistance? Or a tricky scene that seems impossible to make work? Did you have questions about structure or craft?
I'll suggest a topic, give a bit of info on that topic, and then you can type in your questions. We can share information, commiserate and get to know each other.
Why be stuck and lonely, when we can come together and break through stuff?
Take Action! Go to Facebook and "like" my page Pat Verducci. This will connect us and you'll have access to the live sessions. Let me know the topics you want to talk about. Ask questions. Let's start tossing that tennis ball around!
You don't need to win a contest, or go on a retreat to find your community.
Let's create one ourselves!
xo Pat
Sign up here for my free weekly writing tips and inspiration!