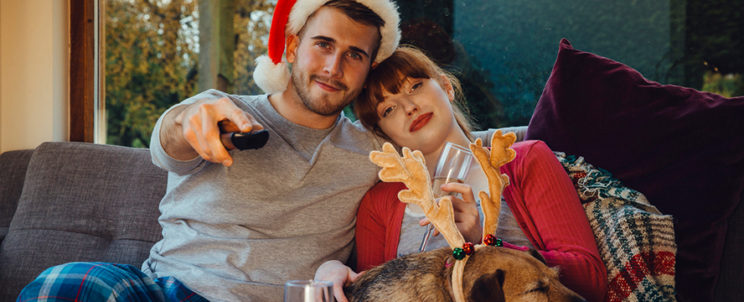 Yep, it's that time again! Time to jingle your bells, binge on carbs, and credit card swipe. It's time to light those candles, decorate that tree and drink too much prosecco. It's also time to watch holiday movies!
Recently, my husband and I, burnt out from shopping and decorating, plopped on the sofa with our almond milk eggnog (don't ask, I don't know what I was thinking) and watched A CHRISTMAS HOPE.
Madeleine Stowe plays a woman who has lost her college aged son, and as a social worker, has to bring a little girl whose mother has died, home for Christmas. Cue tender moments, a releasing of grief, and a big ass old tree! I cried FOUR TIMES. Each time, I turned to my husband and said, "Well played."
The first thing you should know is that the purpose of a good holiday movie is to make you cry. The story is all about creating emotion, and (most often) a message about love. Also, I'm not writing about feature film holiday movies here, but the ones you watch on TV after a hard day at the mall.
Here are the secret ingredients to writing a terrific TV holiday movie. Let's agree that Hallmark productions are the gold standard for drama (because they just are.) And let's agree that Lifetime is the gold standard for comedy romance (because they just are.) 
SECRET INGREDIENTS OF A HALLMARK HOLIDAY MOVIE (DRAMA)
Grief.  Somebody died and the protagonist has to get over it. The spirit of Christmas, and possibly a small child, helps them.
Female lead.  Not always, but often, the protagonist is a woman.
Each act break ends with either a discovery or an emotional moment.  Lots of close ups of people "thinking" or a turn into sadness.
At least 3 big emotional moments that serve to set up, develop, and pay off the theme.  In A CHRISTMAS HOPE, they are #1 The little girl's mom dies, and Madeline is forced to bring her home (Madeline still hasn't gotten over the death of her son and believes he didn't really love her.) #2 Madeline is forced to climb into a fort her son made when he was little, and face her pain. #3 When her son was killed in the car accident, his Christmas gift to her was lost. She receives it at the end, in the form of a letter, where he tells her he wants to be just like her. BONUS emotional moment #4 The little girl's mom promised her "a special gift" before she too was slammed by an SUV. (Car accidents here are key– always let us see the victim's face, frozen, as the vehicle speeds toward them, then cut away to people running to help.) The kid keeps talking about this gift throughout the film, and at the very end it's delivered–  a video where the mom sings a song she wrote for her daughter about how much she loves her. (I'm crying right now just writing this.)
A $500 CHRISTMAS TREE. Seriously, it needs to be at least 15 feet tall.  And people, formerly at odds, gather around it in the last scene.
A title that is warm and fuzzy, but often unrelated to the story.
Snow. Dramas need parkas and mittens. Not sure why.
Message about love.
SECRET INGREDIENTS OF A LIFETIME HOLIDAY MOVIE (ROMANTIC COMEDY)
An irrepressible heroine with a Christmassy job (personal shopper or mall elf will do.) She might be alone or in a bad relationship.
A great hook. For example, the protagonist finds Santa's Naughty and Nice list, misuses it and in so doing, discovers the true meaning of Christmas.
Magical elements (i.e. an angel, or rogue Santa, or Christmas object that has strange powers)
Actress must look like a popular A-list actress (i.e. Reese Witherspoon or Kristen Wiig)
Attractive Man with a dead wife and small child (living.)
Attractive Man with dead wife and small child (living) has a bitchy girlfriend.
A slow romantic burn. No kissing until the end.
A decorating the tree montage with a catchy song.
A goofy best friend who is either pregnant or wears an elf costume.
At the low point in the story, the heroine comes home and faces the crappiest Christmas ever.  This usually involves binging on candy cane flavored ice cream or sugar cookies.
Lots of red bows everywhere to hide the less than stellar production design.  Snow not necessary (please, feel free set your holiday romance in L.A.!)
A kiss at the end.  Preferably under mistletoe.
Message about love
Again, the one thing all holiday movies have in common is a central theme about love and gratitude. I've currently got several of them cued up on my DVR, ready to roll.
Take action! If you love holiday movies and are tempted to write one, is it a comedy or drama? Who's the main character and what's her problem? Can you sneak a small child in there? Is there a love interest? Could he have a bitchy girlfriend? If it's a comedy, what's the hook? If it's a drama, how can you build at least 3 emotional moments to a payoff around a beautifully decorated tree?
How will your message about love be revealed through action?
Ho Ho Ho!  It's time for me to fire up my TV and sob.
Happy Writing!
xo Pat
Sign up here for my free weekly writing tips and inspiration!