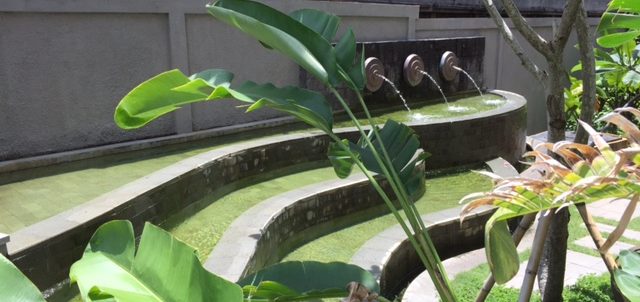 Right now, I'm sitting in my air conditioned room in beautiful Ubud, Bali. I can hear the trickling water feature right outside my balcony (see above), and in the near distance, the hum of scooters piled high with people, goods, and (yes!) dogs.
Bali is a magical place, and I'm working at a retreat to help writers complete a first draft of their books. We've outlined, traveled halfway around the world, and now it's time to begin.
Starting a first draft can be terrifying. Here are some of the thoughts I've had before beginning a new project (in order of frequency.)
"This is going to suck"
"Why am I doing this?"
"Don't tell anyone you're doing this because then they'll keep asking you how it's going and you'll have to admit you haven't written a word."
"This is impossible."
"Am I copying that book I love so much?"
"What's trending on Netflix?"
But I've also had these other thoughts (in order of frequency)
"I'm so excited!"
"This book is going to be AMAZING"
"I feel alive again"
"I can't wait until this thing is in bookstores and I can see it on Amazon!"
"Will they make a movie of my story? Starring Daniel Day Lewis?"
"Will I win the Edgar/Oscar/Man Booker?" (come on people, admit it. you have these grandiose thoughts too.)
Starting something new always involves a combination of thrill and dread. Especially if you've gone through the process before. Here are some things you can do to embrace all these emotions and get started.
Stop thinking. Just sit down and write. Every day, at the same time.
Create a doable daily word count goal and hit it. No matter what.
Throw perfectionism out the window. Write crappily, and often. In fact, the crummier your pages, the better.
Finally, write as fast as you can. Barf it all out, get through it. Despite your dread, this is actually the fun part, where you get to forget about grammar and logic, access the right side of your brain, and commune with complete creative freedom.
I love this quote from Jane Smiley–
"Every first draft is perfect because all the first draft has to do is exist. It's perfect in its existence. The only way it could be imperfect would be to NOT exist."
Take Action! Figure out your daily word count. Sit your butt in the chair until you reach said daily word count, then have fun for the rest of the day. Write fast. Write badly. All your first draft has to do is exist. Let your little dark and light thoughts come along for the ride, and build this thing, crappy brick by crappy brick.
Remember, all your first draft has to do is BE.
Happy Writing!
xo Pat
Sign up here for my free weekly writing tips and inspiration!