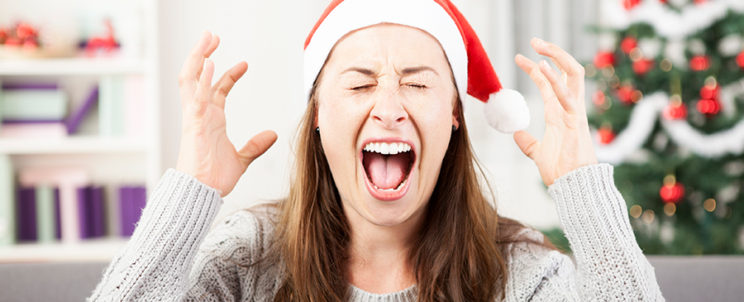 Yeah, I know. It's that time of the year again. 
Not only do you have to work the full time job, you have to buy presents for everyone, search for a damn snapshot where people don't look miserable to send away for the holiday card, address envelopes for said holiday cards, decorate your house, make a bunch of cookies, add new things like "egg nog" and "menorah candles" to your shopping list, and pretend to be filled with joy.
Happy Holidays!
Usually, the first thing to go during this stressful time of year is your writing.
Never fear. Here are my top 5 tips for getting your pages done during the holidays.
Create an early morning writing schedule. If you write first thing, before anyone gets up, you'll stay on schedule. Buy yourself some delicious Christmas Blend coffee.  Get up at the crack of dawn and write for an hour.
Don't use the holidays as an excuse. This is a mindset thing. If you give the holidays the power to derail you, then other "festivities/events" start to derail you. Don't ever use the words, "After the holidays…" with regard to your writing.
Shop online. Ask people to send you links. You'll be amazed how much time you save, which can then be spent on your pages.
Let go of holiday perfection. Who cares if you don't get all the christmas lights up, or if your house doesn't smell like hot cider 24 hours a day? No one cares. Nobody. Except maybe you.
GIVE YOURSELF A GIFT. The gift of time, the gift of allowing yourself to sit down and do the thing you love. Treat your writing time like the most important commitment of the day. Only you can give yourself this gift. The gift of self care and expression.
No one loves to use the holidays as an excuse more than I do. I am a world class catastrophizer. It's all just "too much" and "so stressful" and "crazy" and "insane!" That's just me, whipping myself into a frenzy.
Take Action! Do these five things to stay on track– write at the crack of dawn, don't use the holidays as an excuse, shop online, let go of perfection, and give yourself a gift that really matters.Remember what the holidays are about. And it ain't a bunch of wrapping and fancy trees and running around a mall.
You are creating a gift for the world– your book or screenplay.
Give yourself the time to shop for the right words, wrap them up in neat chapters, and put them under the tree.
Keep Writing!
xo pv
Sign up here for my weekly writing tips and inspiration!